Bat Silvfoxes are currently available through Donation.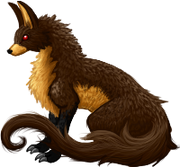 They were released on August 7, 2012.
Descriptions
Edit
Egg:
Foxling: "Aww... look! It´s a fox kit! It has huge ears and seems to be nocturnal."
Adult: "Bat Silvfoxes are small, usually only about half as big as most other Silvfoxes. They screech at very high pitches as they run, listening to sound waves so as to know where to go. They are only active during the night, when they hunt small nocturnal rodents. Bat Silvfoxes are very agile, never having been seen tripping or running into anything. As they run, their fur shines in such a way that they become no more than flashes of silver moonlight. This quality tends to cause other creatures, even large ones, to fear them."
| Series | Egg | Baby | Adult |
| --- | --- | --- | --- |
| Female | | | |
| Male | | | |
Detail Art
Edit
Set - kristhasirah