Dark Winged Silvfoxes are available in the
Den
.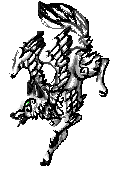 It is one of five types of winged silvfoxes, the others being the Teal, Blue, Yellow, and Orange winged.
Descriptions
Edit
Egg: "This egg appears to have dark wings on it."
Foxling: "Aww... It's a fox kit! It seems to enjoy the dark and despite its white fur it can hide very well at night."
Adult: "Dark winged silvfoxes are named for the dark stripes that cover their wings. This carnivorous breed attracts prey with its pale fur, while the patterns on their fur break up their form. Curious prey go to investigate the light within the darkness, unknowingly walking towards the awaiting predator. Dark wing silvfoxes are surprisingly stealthy despite the white in their fur and each individual is said to have a unique black pattern on its body and wings. Due to the nature of their hunting technique, it is rare to find dark winged silvfoxes together outside of the mating season."
| Series | Egg | Baby | Adult |
| --- | --- | --- | --- |
| Current | | | |
| Original | | | |
Egg Sequence
| Level 0 | Level 1 | Level 2 | Level 3 |
| --- | --- | --- | --- |
| | - | - | |
Detail Art
Edit
Entire Set - Isura
Egg sprite/detail art - Hawaiianbabidoll
Ad blocker interference detected!
Wikia is a free-to-use site that makes money from advertising. We have a modified experience for viewers using ad blockers

Wikia is not accessible if you've made further modifications. Remove the custom ad blocker rule(s) and the page will load as expected.