Dreamcatcher Silvfox are currently available by donating real money to the site.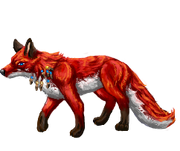 Every $10 earns you one Dreamcatcher exclusive silvfox.
They were released on December 29, 2011 and can breed.
Descriptions
Edit
Egg: "This egg seems to calm the others around it."
Foxling: "Aww, it's a little kit! In its spare time, it loves playing with other kits. However, it spends most of its time with its parents, learning to weave the magical beads into its fur and to master the art of dream catching."
Adult: "Dream Catcher Silvfoxes love to roam at night, when most of the other creatures of the Misty Woods are fast asleep. They weave magical beads into their hair using their claws and contraptions they make to help them explore and filter out dreams so that the sleepers rest peacefully."
| Series | Egg | Baby | Adult |
| --- | --- | --- | --- |
| Female | | | |
| male | | | |
Detail Art
Edit
Set - Isura
Ad blocker interference detected!
Wikia is a free-to-use site that makes money from advertising. We have a modified experience for viewers using ad blockers

Wikia is not accessible if you've made further modifications. Remove the custom ad blocker rule(s) and the page will load as expected.