Fairie Silvfoxes are currently available in the
Den
.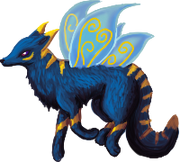 They were previously referred to as Fairy Silvfoxes.
It was released on August 11, 2011 alongside the Redd and the Graven Silvfox.
Descriptions
Edit
Egg: "This egg has pretty spirals on it."
Foxling: "Aww... it's a fox kit! It has a pair of thin wings with a beautiful patterning."
Adult: "Fairie Silvfoxes are majestic creatures with beautiful wings sprouting from their backs. Their wings are intricate in design and despite their fragile appearance, are quite sturdy. Due to the style of their wings, they cannot fold them, thus prefer more open terrain with a few trees where their wings will not get caught on low hanging branches. The males are more colorful than the females in order to win a mate. Though Fairie Silvfoxes are generally a calm breed, they do have a nasty bite."
Series
Egg
Baby
Adult

Current

Female

Current

Male

Original

Female

Original

Male
Egg Sequence
| Level 0 | Level 1 | Level 2 | Level 3 | Dead |
| --- | --- | --- | --- | --- |
| | | | | |
Detail Art
Edit
Original set - Hatchiko
Original egg sprite - SilverDragonTears
New set - GoldenShadowFire/Flare
Digital Art - Kristhasirah
Ad blocker interference detected!
Wikia is a free-to-use site that makes money from advertising. We have a modified experience for viewers using ad blockers

Wikia is not accessible if you've made further modifications. Remove the custom ad blocker rule(s) and the page will load as expected.