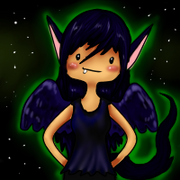 GoldenShadowFire is a SilvFox artist and forum moderator.
She has changed her name to Flare, but is still known as GoldenShadowFire on the main site.
Flare was recruited by SilverKitsune, and is now a good friend of hers. She likes to procrastinate and enjoy life, though school weighs down a good portion of her time.
Her sass and sarcasm offputs many, but don't be afraid to approach her with anything. She likes to stalk the Nursery and sneakily click only the NeonTipped Silvfoxes, which she first created.
Flare likes to eat chips. She likes to drink grape juice. On a good day, she'll even have a bit of candy. Flare is beast at music. Proven fact.
One day Flare will rule the world.
GoldenShadowFire/Flare's In-den Work
Edit
Ad blocker interference detected!
Wikia is a free-to-use site that makes money from advertising. We have a modified experience for viewers using ad blockers

Wikia is not accessible if you've made further modifications. Remove the custom ad blocker rule(s) and the page will load as expected.