Grass Element Silvfoxes are currently available in the
Den
.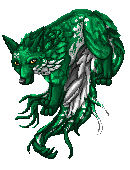 They were released on July 15, 2011 as part of the Foxes of the Forest Elements set.
Descriptions
Edit
Egg: "This egg seems to radiate an element of grass."
Foxling: "Aww... It's a cute little kit! Its green fur is short and wiry and reminds you vaguely of a freshly mown lawn."
Adult: "Grass Element Silvfoxes are a passive species of silvfox. Nothing pleases them more than to sit in the middle of grass fields, watching the plant life sway gently back and forth in the wind. Their green fur camouflages them so that they can watch nature in its entirity without startling passing animals."
| Series | Egg | Baby | Adult |
| --- | --- | --- | --- |
| Current | | | |
| Original | | | |
Egg Sequence
| Level 0 | Level 1 | Level 2 | Level 3 | Dead |
| --- | --- | --- | --- | --- |
| | | | | |
Detail Art
Edit
Entire Set - Isura
Egg detail/sprite - Hawaiianbabidoll