Green Marauder Silvfoxes were available in the
SilvAshop for
500
Silva Dollars
.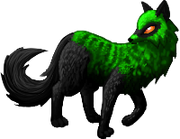 It is the 3rd version of the Marauder Silvfoxes, the first two being the blue and red varients. It was originally priced at 400 silva dollars before being raised to 500.
Like all the adoptables with beta sprites, they were removed on 11/23/2011 until new sprites could be created. They were re-introduced february 14, 2012.
Descriptions
Edit
Egg: This egg is concealed in the shadows.
Foxling: Aww... it's a baby kit! The black fur around its eyes seems to mask its face. Its eyes shine through the mask with a mischevious gleam.
Adult: Green Marauder Silvfoxes blend into the forest with the green and black coloration of their fur. The black mask-like pattern on their face surrounds them with an aura of mystery, which has given them a reputation as sly, mysterious creatures. However, they are surprising gentle once they let their guard down.
| Series | Egg | Baby | Adult |
| --- | --- | --- | --- |
| Female | | | |
| Male | | | |
| Original | | | |
Detail Art
Edit
Original Set - Switch
Current Set - GoldenShadowFire (Flare)