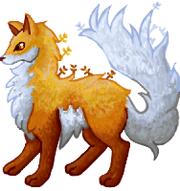 The Lichen Silvfoxes were originally available in the
Den
but were taken down sometime in november of 2011 due to poor sprite quality.
They returned on April Fools Day, 2012.
Descriptions
Edit
Egg: This egg seems to have lichen growing on its shell.
Foxling: Aww... it´s a fox kit! Its fur feels like lichen.
Adult: Lichen foxes line their nests with lichen and it often clings to the surfaces of their eggs. They keep to lichen covered ground where their kits will stay camouflaged and safe from predators. Male Lichen foes often take it upon their selves to look over the kits while the females go out hunting.
| Series | Egg | Baby | Adult |
| --- | --- | --- | --- |
| Female | | | |
| Male | | | |
| Original | | | |
Detail Art
Edit
Original set - albinosilver
Current set: Kristhasirah