Neon Tipped Silvfoxes are currently available in the Den.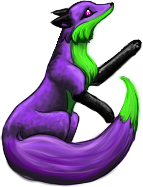 They were released on August 14, 2011 under the name Green Tipped Vis Silvfoxes. The Vis was later dropped. Before the female version was added, both male and female foxes looked like the current males, but with the addition of the female, they no longer all had green tipped tails and the name was changed.
Descriptions
Edit
Egg: This egg is brightly colored.
Foxling: Aww it's a fox kit! It's chest and tail tip are a vibrant color and seem to have a faint glow at night.
Adult: Neon Tipped Silvfoxes are omnivores and have an enzyme in their fur that makes their chests and tail tips glow during the night. The males entire pelt gives off a faint glow, however their chests and tail tip glows brighter as they mature. The brighter males are more likely to earn a mate. The females' black pelt does not glow at all, so once a female has picked a mate, she will do the hunting while he takes care of the kits. The females' blue fur does have a glow and is used to entrance small, unsuspecting prey before pouncing.
| Series | Egg | Baby | Adult |
| --- | --- | --- | --- |
| Female | | | |
| Male | | | |
| Original | | | |
Detail Art
Edit
Original egg, adults, and kits- GoldenShadowFire/Flare
egg sprite/detail art- Hawaiianbabidoll
Adult/kit Detail art - Kristhasirah
Ad blocker interference detected!
Wikia is a free-to-use site that makes money from advertising. We have a modified experience for viewers using ad blockers

Wikia is not accessible if you've made further modifications. Remove the custom ad blocker rule(s) and the page will load as expected.