Noctis Silvfoxes were available in the
den
.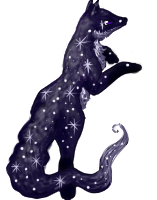 They were released on June 10, 2011. Like all the adoptables with beta sprites, they were removed on 11/23/2011 until new sprites could be created. They were the first beta sprites to be replaced and were re-released the following day (11/24/2011),
Descriptions
Edit
Egg: This egg resembles the night sky.
Foxling: Aww...it's a fox kit! This kit has a belt as dark as the night sky. Strangely enough, it is covered in glittering markings that remind you of the stars.
Adult: Noctis Silvfoxes got their name due to their dark, star lit fur. Their pelt has the unusual ability to absorb starlight, giving the creature a faint glow. They prefer to spend their time close to the stars and are a common sight around mountainous areas. During breeding season, the fox with the most impressive patterning will win a mate. When threatened, The Noctis Silvfox will stand stock still. Their skin releases a chemical compound that negates the shine of the star pelt and allows the Silvfox to hide in the darkness.
| Series | Egg | Baby | Adult |
| --- | --- | --- | --- |
| Female | | | |
| Male | | | |
| Original | | | |
Detail Art
Edit
Original Set - Switch
New Set - kristhasirah
Ad blocker interference detected!
Wikia is a free-to-use site that makes money from advertising. We have a modified experience for viewers using ad blockers

Wikia is not accessible if you've made further modifications. Remove the custom ad blocker rule(s) and the page will load as expected.