Wreath Deer were available in the
Den
for one week during December of 2011.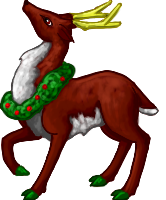 They were released for Christmas on December 24, 2011 and could be picked up until Junauary 1, 2012. They are the first adopt on the site to have alternate forms, as well as two stages to their childhood growth.
Descriptions
Edit
Egg: This egg has a pretty ribbon around it.

Hatchling: Aww look! A fawn! It likes to gather branches and berries.
Mature Hatchling: Aww look! A fawn! It likes to gather branches and berries for decoration. Now that it's older, it keeps trying to fashion the branches into a decoration.
Adult: Wreath Deer spend most of their childhood learning how to bend and fasten together the branches of trees to create decorative wreaths. Adults will use these wreaths to gain a mate, with the larger and more intricate designs often impressing the females. Males will strut with their wreath until a female approaches and the two will swap wreaths as a sign of their bond. The spare wreaths created and discarded by this species are often picked up and used as holiday decorations since their mating season coincides perfectly with the holiday season.
Wreath deer only come to the misty woods every couple of years, migrating to follow suitable decorations and evergreens for their wreath making. On the chance a few wreath deer do choose to stay, the offspring of these deer who have stayed in the misty woods for longer periods of time are said to have unique and beautiful pelts.
| Series | Egg | Baby | Young | Adult |
| --- | --- | --- | --- | --- |
| Female | | | | |
| Alt Female | | | | |
| Male | | | | |
| Alt Male | | | | |
Egg Sequence
The Wreath Deer has a unique hatching sequence in which the ribbon is untied.
| Level 0 | Level 1 | Level 2 | Level 3 |
| --- | --- | --- | --- |
| | | | |
Detail Art
Edit
Set - kristhasirah
Ad blocker interference detected!
Wikia is a free-to-use site that makes money from advertising. We have a modified experience for viewers using ad blockers

Wikia is not accessible if you've made further modifications. Remove the custom ad blocker rule(s) and the page will load as expected.