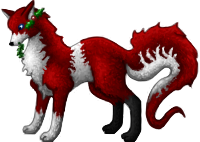 Yuletide Silvfox are available in the Den. They were released on December 22, 2012.
Descriptions
Edit
Egg: "This egg gives off a joyful feeling."

Foxling: "Aww...it's a fox kit! It looks so happy playing in the snow, it seems to be waiting for something."

Adult: "The Yuletide Silvfox is a rare breed that is usually only seen during certain days in December, during which it is most active. They are an unusual breed in that the female tries to attract the male to mate, using mistletoe and holly to try to entice the males. Once they become mates, they mate for life and both spend their time collecting many pretty and shiny objects or tasty fruits and nuts. They gather these all year round and store them in their dens, only to empty their vast collection at that one time of the year when they gift these prizes to sleeping kits."
| Series | Egg | Baby | Adult |
| --- | --- | --- | --- |
| Female | | | |
| Male | | | |
Egg Sequence
| Level 0 | Level 1 | Level 2 | Level 3 |
| --- | --- | --- | --- |
| | | | |
Detail Art
Edit
Set - kristhasirah
Ad blocker interference detected!
Wikia is a free-to-use site that makes money from advertising. We have a modified experience for viewers using ad blockers

Wikia is not accessible if you've made further modifications. Remove the custom ad blocker rule(s) and the page will load as expected.